LavenderPop Greeting Cards are a dynamic line of Black and multicultural cards. Lavenderpop Cards offer a diverse mix of cards for everyday occasions like Birthdays, Dating, Get Well, Thinking Of You, Thank You, LGBT/SGL pride, and more. We have designs for most major holidays including Valentine's Day, Mother's Day, Father's Day, and Christmas.
(So grateful to all the supporters who dropped by our table at Chicago's Hyde Park Handmade Artist Bazaar during 2015.)
All designs created by nationally published artist Otis Richardson.  You can purchase cards here, or visit our blog for updates on LavenderPop Cards.
Take a look at some of our everyday occasions like birthdays, anniversaries, dating and romance.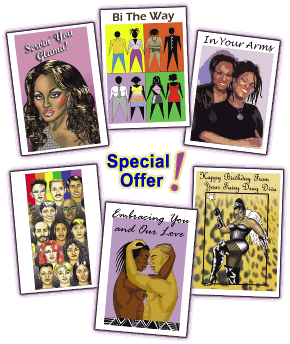 SPECIAL OFFER for Non-Profits, Health, HIV/AIDS, and Social Organizations
Offering LavenderPop Cards to your constituents is a great way to present positive images and make some extra money. Great for cash strapped agencies.
For an initial investment of $115 you receive:
One 6-pocket wire rack, perfect for hanging flat on a wall.
A minimum of 6 packs of cards
Free shipping.