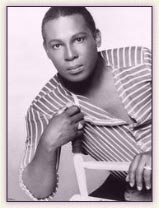 Sylvester was born Sylvester James on September 6, 1947 to an affluent black family in Los Angeles. Sylvester's initial exposure to music came through his grandmother, Julia Morgan, who had been a revered jazz singer in the 1930's. Through her, he acquired an interest in blues and theatre. At his grandmother's encouragement, he learned to sing at a local Pentecostal church. Exceptionally gifted and popular as a singer in his preteen years, he performed at various South Los Angeles churches, as well as statewide gospel conventions.
Sylvester relocated to San Francisco, circa 1967. This was prior to the city's famed status as the gay capital of the world. San Francisco, with its burgeoning art scene and hippie culture, proved to be the perfect creative base for Sylvester. He started singing in Chinatown at the Rickshaw Lounge. Creating a stage show called, "The Women of Blues", he performed as "Ruby Blue" and paid homage to Billie Holiday, Lena Horne and Bessie Smith. Sylvester became venerated throughout the Bay Area for his dead-on allusions to divas of the past, as well as his powerhouse voice.
Blessed with a soaring gospel-trained falsetto, his throaty delivery was rivaled in disco land only by the likes of Loleatta Holloway, or one of his backup singers Martha Wash, originally with Two Tons Of Fun.  With his captivating stage presence, Sylvester performed in elaborate costumes and gowns conceived by Pat Campano (who also designed for the Supremes and the Jackson Five). One of the few openly gay artists in disco, or popular music for that matter, Sylvester was distinguishable from his contemporaries by the fact that he was a drag performer. Indeed, Sylvester was unabashedly gay and his extroverted persona bestowed upon him a multiracial, pansexual fan base.
Though Sylvester was primarily associated with disco, he performed blues, gospel, jazz, Southern rock, Northern soul and show tunes. However, a thoughtful observance of disco and its history are necessary in the proper delineation of Sylvester's legacy. Sylvester lived disco, and in his all-too-short career, came to personify its innovations, triumphs and tragedies.
On December 16, 1988, Sylvester James succumbed to AIDS-related complications at the age of 41. Despite his untimely passing, Sylvester's spirit lives on in a new generation of musicians, gay and straight. Indeed, Sylvester's recordings have reached a wider audience since his passing. Like disco, the genre in which he was such a quintessential figure, Sylvester has found new life on today's dance floors.