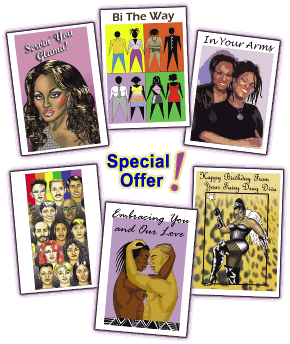 SPECIAL OFFER for Non-Profits, Health, HIV/AIDS, and Social Organizations
Offering LavenderPop Cards to your constituents is a great way to present positive images and make some extra money. Great for cash strapped agencies.
For an initial investment of $115 you receive:
One 6-pocket wire rack, perfect for hanging flat on a wall.
A minimum of 6 packs of cards
Free shipping.
Cards are shrink-wrapped in packs of 12 each with matching envelopes.
The retail value of this offer is over $200!
Two Options
1) Select the cards you want and make sure to select Wholesale in drop down menu, then purchase the wire rack.
~ or ~
2) We'll select an assortment of cards for you.
Just add our Special Offer to your cart.
You may also phone (773) 858-0057